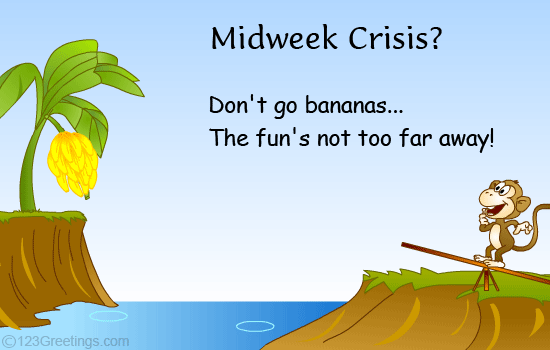 Thanks to 123 Greetings, I found a cute image for hump day. The others were wayy too

N

raunchy

N

... I get it's hump day but I doubt that causes people to have more sex than any other day of the week. Buhh anyway, that is not what this post is about.
First of all, lemme apologize. I am sorry I have not been keeping up with my
Say Whhaaa Posts
due to pure laziness. The most frequent time I'm saying Sayyy Whaaa is when I'm supposed to be doing assignments
L
Not really a good look. I know, but I'll do better. I promise to try
K
Welp
Number One
for this week is definitely
Valerie Spruill
, who found out her husband was actually her father... yea. Take these,
$
you'll need 'em.
Read up on that while ya waiting for 5 o'clock... I won't spill it all for you, but what I found impressing about her story is that she found a way to inspire others. It's an extremely intriguing scenario.
Next up
, we got some really cool dance moves. There's a new dance fad going on in Africa and as recent trends have it, there's an online competition. I definitely have to give these two entries
C
C
C
thumbs up (it's that good I gotta borrow someone else's thumb....
K
yasss) I don't know why but I watch these videos at least twice a day. I mean the song is fun, energetic, and has a nice punch to it. The dance moves are GREAT and I always seem to learn something new from them.
Who doesn't want the superhuman powers to control another human being like they got a device on em?!
Sha be careful of which antennas you're raising
F
#Rehab
Iono, maybe I'll enter the competition as well. I surely need to get my azonto on *cough* my azonto needs a lot of work and I can uh use the exercise!
Finally,
ahhh finally... this song! The first time I came across it. I replayed it about seven different times! Yess it is that serious! Contrary to musical tradition, the video for this lovely song was revealed before the song. The total delivery is certified
M
explosive
M
!!! It definitely left me with a bunch of emotions. A song that can derive so much is definitely from a team with exceptional dedication. Iono maybe I'm being a groupie and giving too much credit but for a Nigerian artist, I was certainly impressed! #POW!!
Watch, watch, watch! and see what I am talking about!
Alrighty.... it's 25 minutes into the last hump day of September 2012 and I've managed to squeeze out one more Say Whaa post.